Make Your Virtual Classroom Interactive with Woot Math's Teacher-Led Activities
Did you know that you can use Woot Math's Teacher-Led activities and any video conferencing application to run an interactive and engaging virtual classroom? With the following tips, you can have face-to-face interaction, and share student work in real time for great discussions.
The Coronavirus is causing many (if not all) schools to close for normal operations. Distance learning is suddenly a necessity and teachers are scrambling for activities that they can assign to their classes and still have productive learning going on. But not all distance learning needs to be independent. By carefully planning a lesson with Woot Math's formative assessment platform, you can have an engaging and productive discussion with your students.
Learning new software can be difficult. Be sure to practice operating your video conferencing software so that you are comfortable with it, and know how to share your screen or browser window, and how to cancel sharing. With a bit of preparation, you can avoid accidentally sharing the wrong window with your entire class!
Sometimes you may want your students to be focused on their work in their device's window of Woot Math, and sometimes you will want them focused on your shared screen in the video conferencing app. Of course, sometimes you will just want the class to be together, seeing each other and interacting without any shared screen.
Use The New Slide Task for Instructional Content
You can create any lecture-style material you want to cover by inserting a "Slide" task into your unit, and then modifying the scratchpad. This can be anything you can create on the scratchpad with our digital tools, or you can upload an image or PDF as the content as well. If you already have your content prepared, you can upload it directly to a new slide by selecting Import Worksheet, below the new task type selector. When projected, the slide content will display on your screen and the students' devices so that they can see clearly what you are talking about.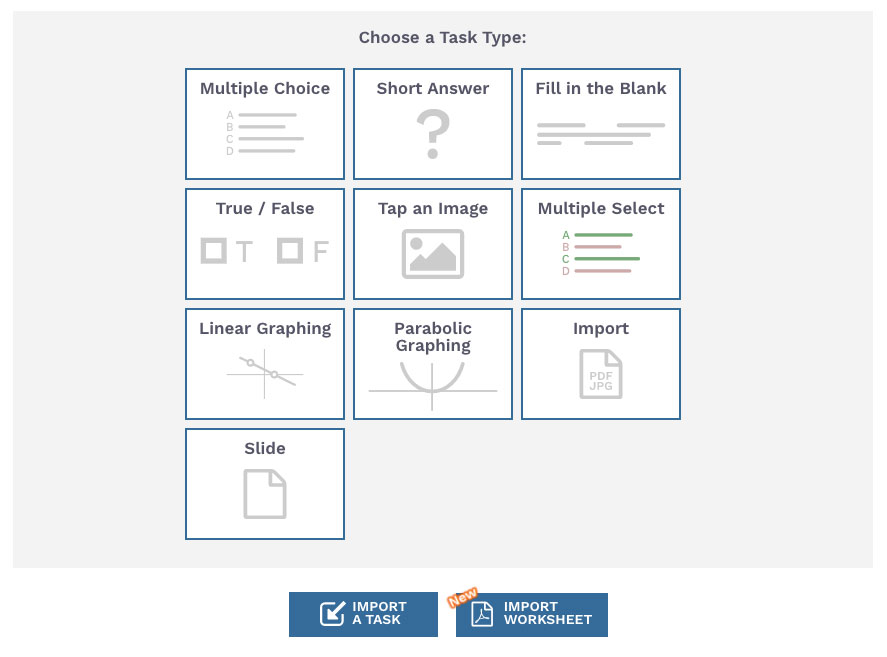 Monitoring Student Engagement
There are several ways you can make sure your students are paying attention with Woot Math. The left-hand panel will display who is connected to the platform (the little wifi icon), as well as who has successfully submitted a response to the current task (a solid blue square next to their name).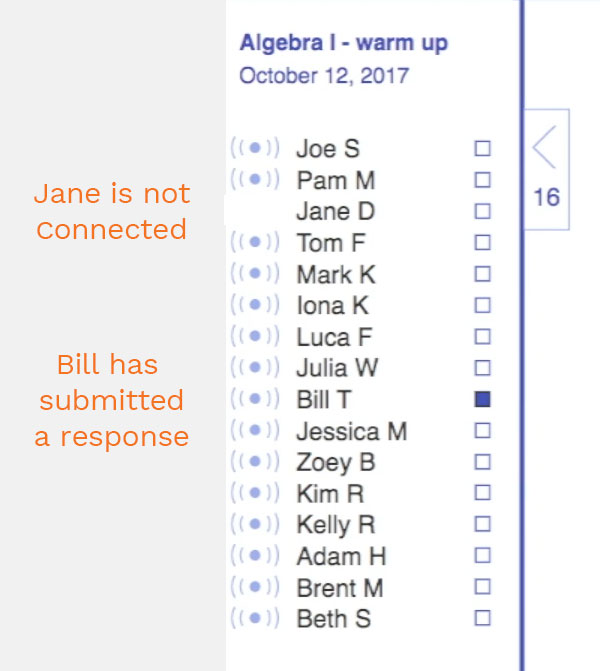 You can also use the live view of student work to see what they are doing on their scratchpads in real time. Just be sure to not share your screen when you look, or you will share that student's work with everyone in the class. Read this blog post to learn more about live view.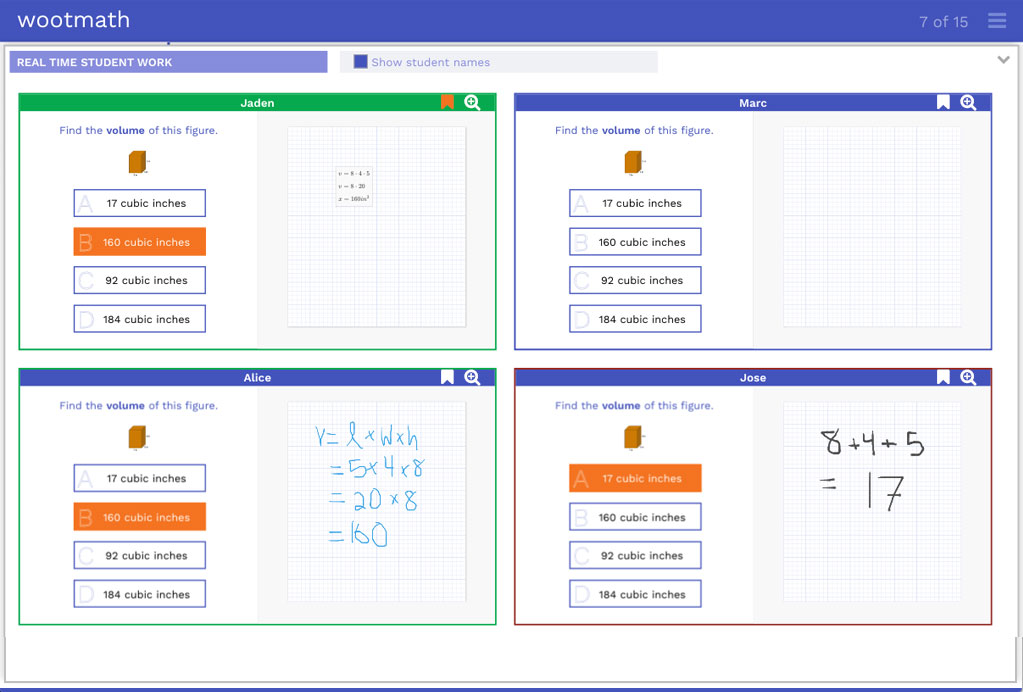 Once the students have completed their work and submitted their answers, share your Woot Math screen with the class. Select Display Work, and you can review your students' work with the class to help drive discussions, reveal common misunderstandings, and help keep everyone connected.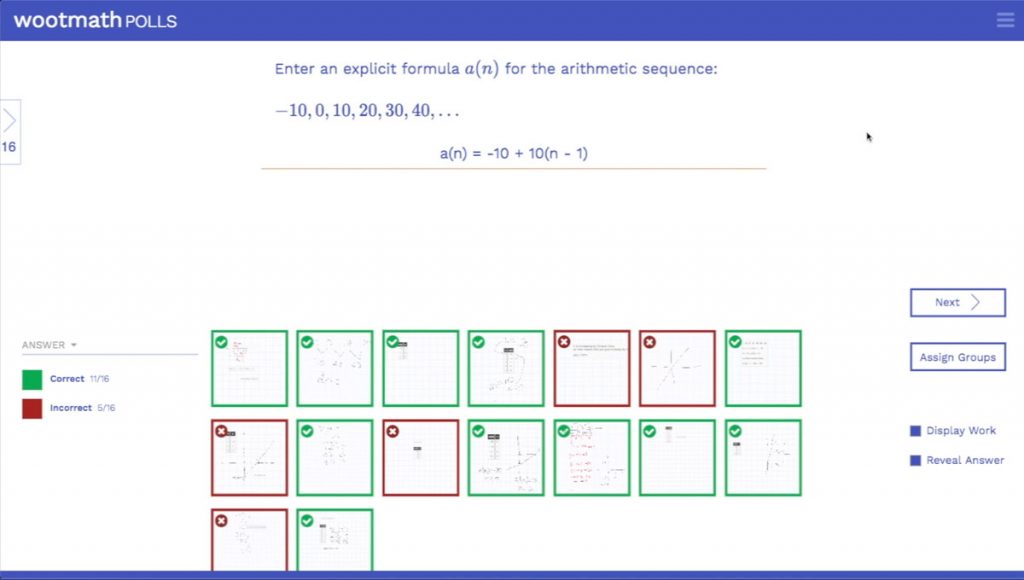 To open a student's answer and scratchpad, just click on any of the tiles. The X in the upper right corner will let you close it again when you are ready to move on to another example.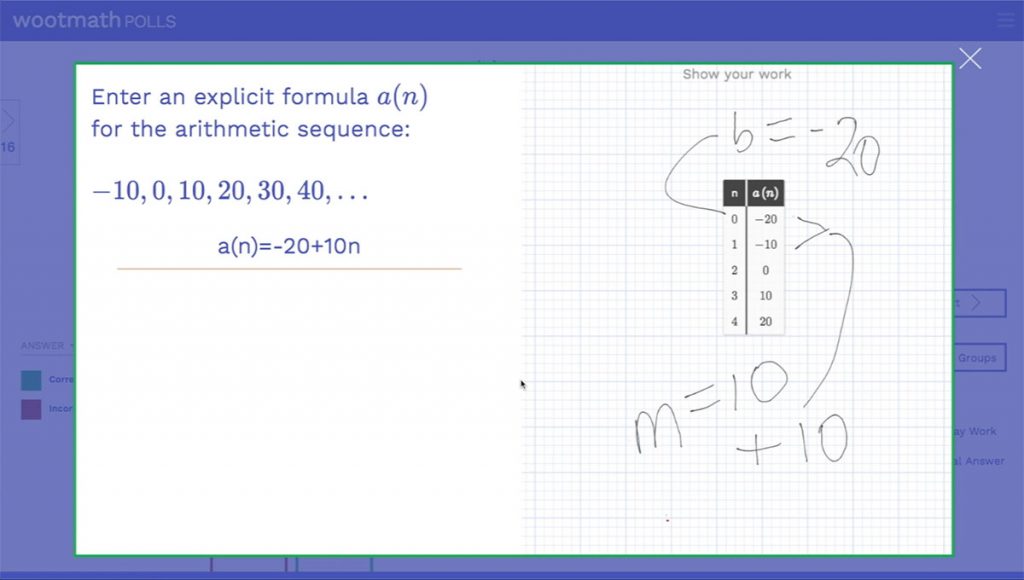 This is a challenging time for all of us. We hope this approach may be useful for you and your students. If you have any questions or suggestions, please contact us. We are here to help.
Stay safe and stay well.
Visit our page on Formative Assessment for more on how to use this free tool in your classroom.