To print login cards from your students, first login to your teacher dashboard here. Then, click on the More drop-down, and select Manage Classes and Roster.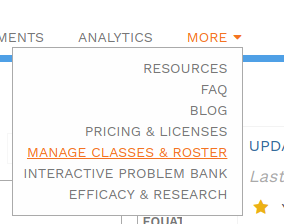 From the Setup your Classes page, you can select Print Login Cards.

The print login cards will provide the teacher code, username, and password for your students so they can access Woot Math from your classroom or at home.
Note that the Print Login Cards is only available when you or your administrator has setup your class rosters from Woot Math (indicated with the Woot Math image next to the class name).
If you are using Google Classroom or Clever, then your students will login with their same login information as setup in that platform. In this case, simply provide your teacher code so they can login. If you do not know your teacher code, you can learn more about that here.