There are a couple of ways to preview an assignment before you assign it to your students. For any of the formative assessment assignments (warmups, exit tickets, quizes, homework, etc), you can simply hover over the assignment to get the options for that assignment. To preview a formative assessment assignment, simply press the Preview, as shown here: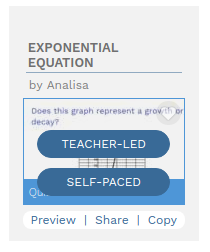 The Preview mode will allow you to play the assignment just like a student. The preview includes full access to the student scratchpad, correct/incorrect answer reporting, and much more.
To make a formative assessment assignment, simply pick either Teacher-Led or Self-Paced to send the assignment to your students.
For any of the Adaptive Learning assignments, you can play an assignment by assigning it to yourself (learn how to make yourself an account here). Note that because it is adaptive in nature, your experience will not be exactly the same as your students'.